Are you looking to get a real Christmas tree this season? Instead of a real Christmas tree, it is recommended to get an artificial Christmas tree. Nowadays, you can buy an artificial Christmas tree that looks realistic. Moreover, using a realistic artificial Christmas tree has a lot more benefits than using a real Christmas tree and we are going to explore those benefits in this post.

It is very easy to assemble and setup an artificial Christmas tree with built-in lights. A good artificial tree will have a convenient design which would make it easy for the end user to assemble and set it up for display. It wouldn't have any complicated assembly and maintenance that would usually be a part of setting up a real Christmas tree. Once you have ordered an artificial tree from a good brand, it will reach your doorstep in a few days. You will get clear assembly instructions on how to do the setup. It is not like setting up a real Christmas tree where you have to figure everything out yourself. You don't have to go through the hassle of putting up all the lights on the tree if you get a pre-lit artificial tree. However, you need to set aside adequate amount of space in your home to store the tree after the Christmas so that you can reuse it next year. 
Reusability is the most important feature of an artificial Christmas tree. If you purchase a good quality realistic artificial Christmas tree from a reliable brand, you can use the same tree for many seasons without having to buy a new tree for years. You do not have that luxury with a real Christmas tree. You cannot use a real tree for more than one season. If you choose to reuse a real tree, then you will have to take the necessary steps to maintain it for an entire year which would consume a lot of your time and effort. You have to keep watering a real tree daily. It would also keep shedding pine needles on the floor and you would have to clean them up every day. If there are kids at home, those pine needles dropped on the floor can injure the kids. But, with an artificial Christmas tree, you don't have to use water at all and it won't shed needles.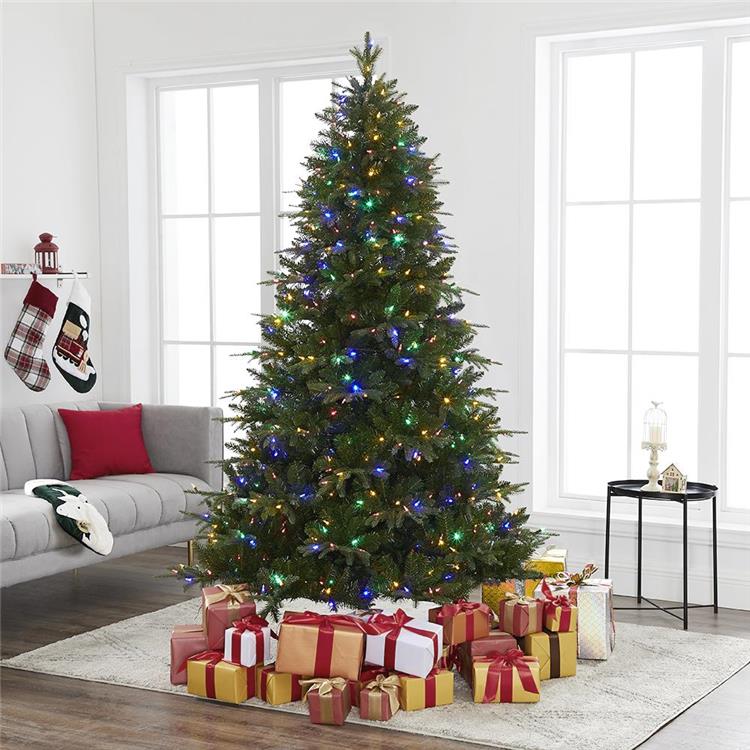 A good quality artificial tree can be used for 8-10 years while a real tree wouldn't last more than a few months unless you put in the required effort to maintain it. If you compare the price of a real tree with an artificial tree, the real one would appear to be cheaper. You can set up a real Christmas tree by spending not more than $300. But you have to shell out $800-$900 for a high quality artificial tree with pre-built lights. But since a good artificial tree would be durable for many years, it is like a one-time investment.
Manufacturers spend a lot of money and effort in designing realistic looking artificial Christmas trees. The ones available nowadays look much better than the trees made of aluminum that were available many years ago. By looking at an artificial tree made of aluminum, one can easily make out that it is fake. But that is not the case with the modern realistic artificial trees.
Artificial Christmas trees are a lot safer than their real counterparts. The real trees can cause fire hazards which are eliminated if you use artificial trees. Once a real Christmas tree has dried out, it is hazardous to keep it at home as it can catch fire easily and the fire can spread throughout your home. Reports suggest that fire hazards caused by Christmas trees are a lot more common than the fire accidents occurring at homes due to other reasons. At least, 3-4% of these fire accidents caused by real Christmas trees have resulted in deaths. This percentage is actually higher than the deaths reported due to normal fire hazards at home. It is also reported that fire hazards caused by artificial Christmas trees are a very few (almost nil). This is a good enough reason to choose an artificial tree over a real one this Christmas.

However, it is important to be careful while buying artificial Christmas trees. Not all artificial trees are fire-resistant. It is important to buy only fire-resistant artificial Christmas trees especially if the trees come with pre-built lights. You have to verify if the pre-built lights meet the industry standards. You have to look for a symbol with UL certification which tells you that the lights are built according to the safety standards set by the industry.